Highlights, Lowlights and Star Lights of Boston Calling 2016
By Karen Hua, Daily Arts Writer
Photos by Alan Osinoff/Daily
Interactive by Daily Web Developers and Alex Intner, Summer Managing Arts Editor
Three days, 39 acts, smack in the middle of historic Beantown.

2016 was the final year that City Hall Plaza hosted Boston Calling, as the music festival is slated to move to Harvard's athletic campus in Allston, Mass. next May and expand to incorporate Natalie Portman's ("Black Swan") film festival. The traditionally biannual event will also discontinue its September edition.

Saturday reached a high of 99 degrees while Sunday chilled the plaza with unusually cool temperatures. Likewise, here are the highs and lows of Boston Calling's seventh festival.


↓ Scroll down to explore the festival.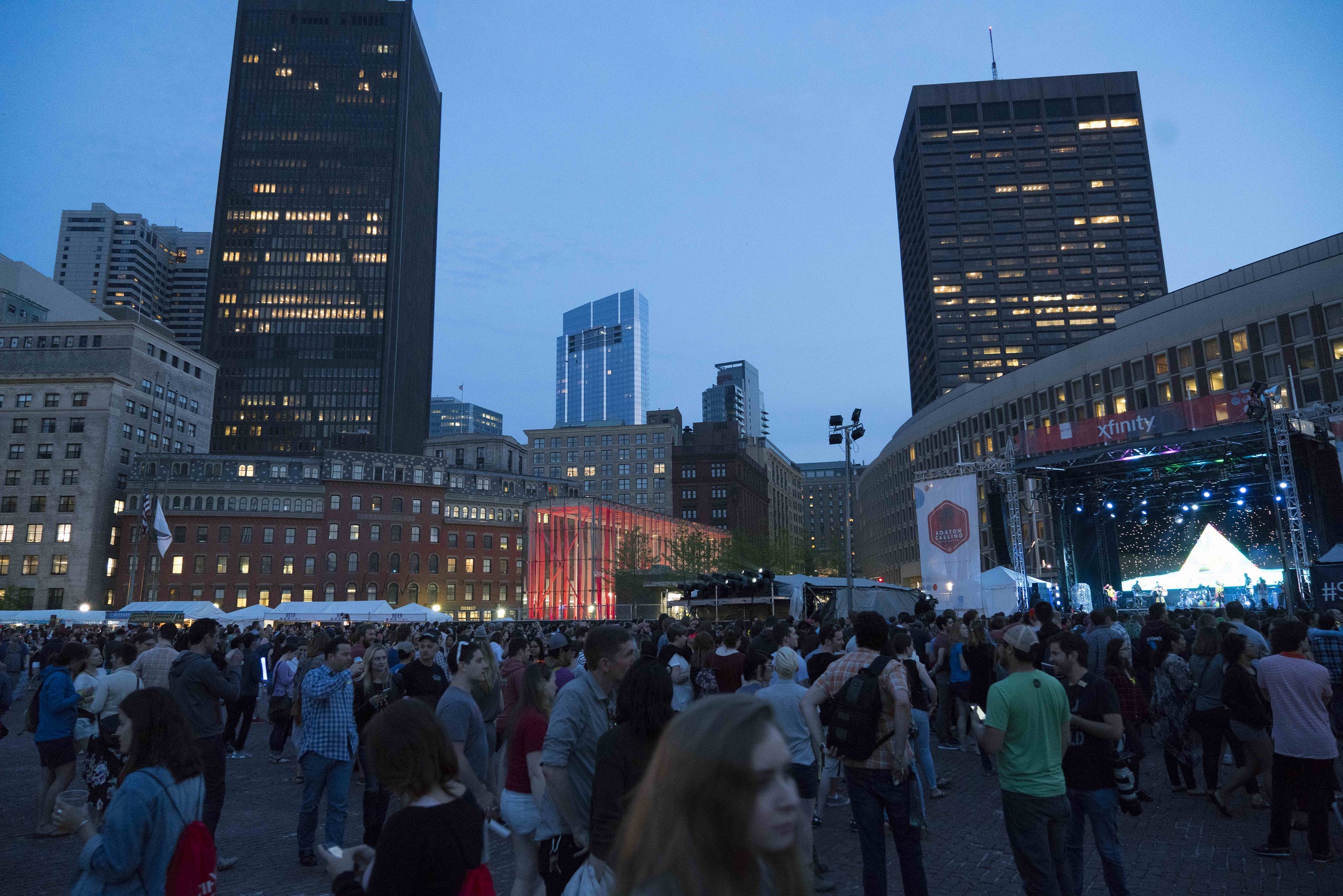 Sufjan Stevens
Many of the 50,000 attendees this year didn't even know how to pronounce Sufjan (Soof-yan) Stevens, but they most likely witnessed the most alien concert of their lives. Kicking off the weekend, Stevens brought every flashy prop, costume and pyrotechnic imaginable to the stage: butterfly wings, pompoms, blow-up figurines, eccentric wigs and goggles and hats, a full disco-ball suit and a whole balloon suit. Unlike music festivals such as Bonnaroo, Boston Calling isn't notorious for encouraging egregious drug experimentation, but Stevens and his neon-clad backup singers danced around like Richard Simmons robots, reminiscent of an acid trip. Every performer on his stage breathed his electric aesthetic, producing sounds that (albeit didn't sound like English) glittered and sparkled. He ended his set on his more recognizable, "Chicago," a semi-autobiographical song about youthful idealism. In a nutshell, it embodied Stevens' show: a dreamlike fantasy manifested into reality. He cooed: "All things go / All things go," as though to assuage the youth in the crowd. Needless to say, Stevens' performance shattered the schema for a typical concert experience; he defined an out-of-body sensation.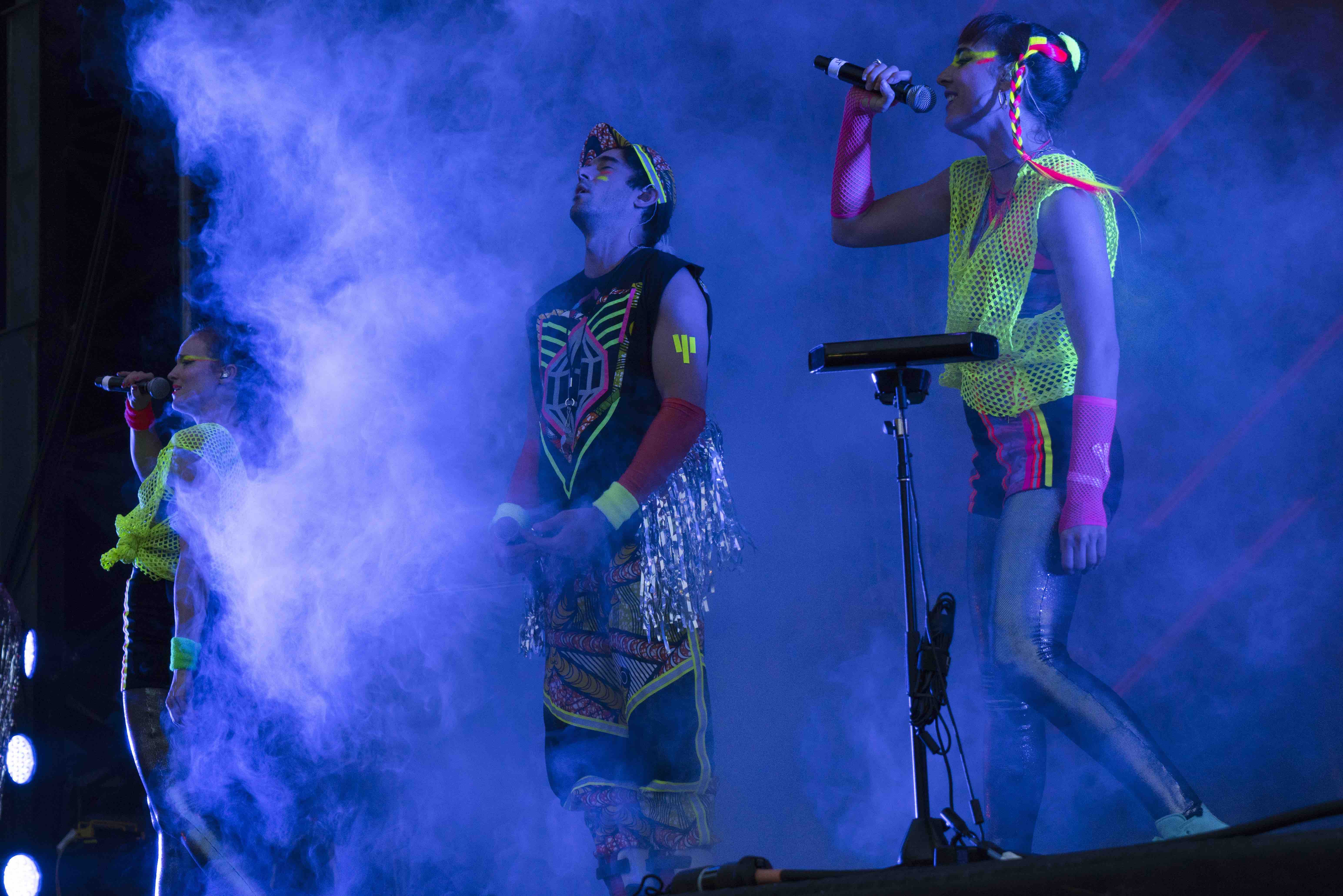 Sia
Even though Sia only closed the first night, she takes home the prize for "Best of the Fest." There was absolutely no performance that could compare to her stunning multimedia concert experience – an experience that intertwined live-action performance with audiovisual beauty. The Australian pop singer arrived in her iconic black-and-white wig that covered her eyes, and she commanded the back corner of the stage where she didn't budge for the entire set. Instead, she surprised an erupting audience with her music-video star, "Dance Moms" child prodigy Maddie Ziegler, whose live talents were unparalleled by any other. Sia arrived with her entourage of other eccentric dancers as well, ranging in gender and age, all donning nude-colored leotards and her signature wig. The two Jumbotrons that consistently broadcasted live onstage action actually displayed pre-recorded footage for Sia's performance — tricking the audience into believing that what they saw on screen mirrored the real-life movements before them. So, the concert in a word: meta. Celebrities that danced across the screen such as Kristen Wiig ("SNL") and Paul Dano ("Little Miss Sunshine") weren't actually present onstage — and who knows? Perhaps Sia wasn't even there singing herself.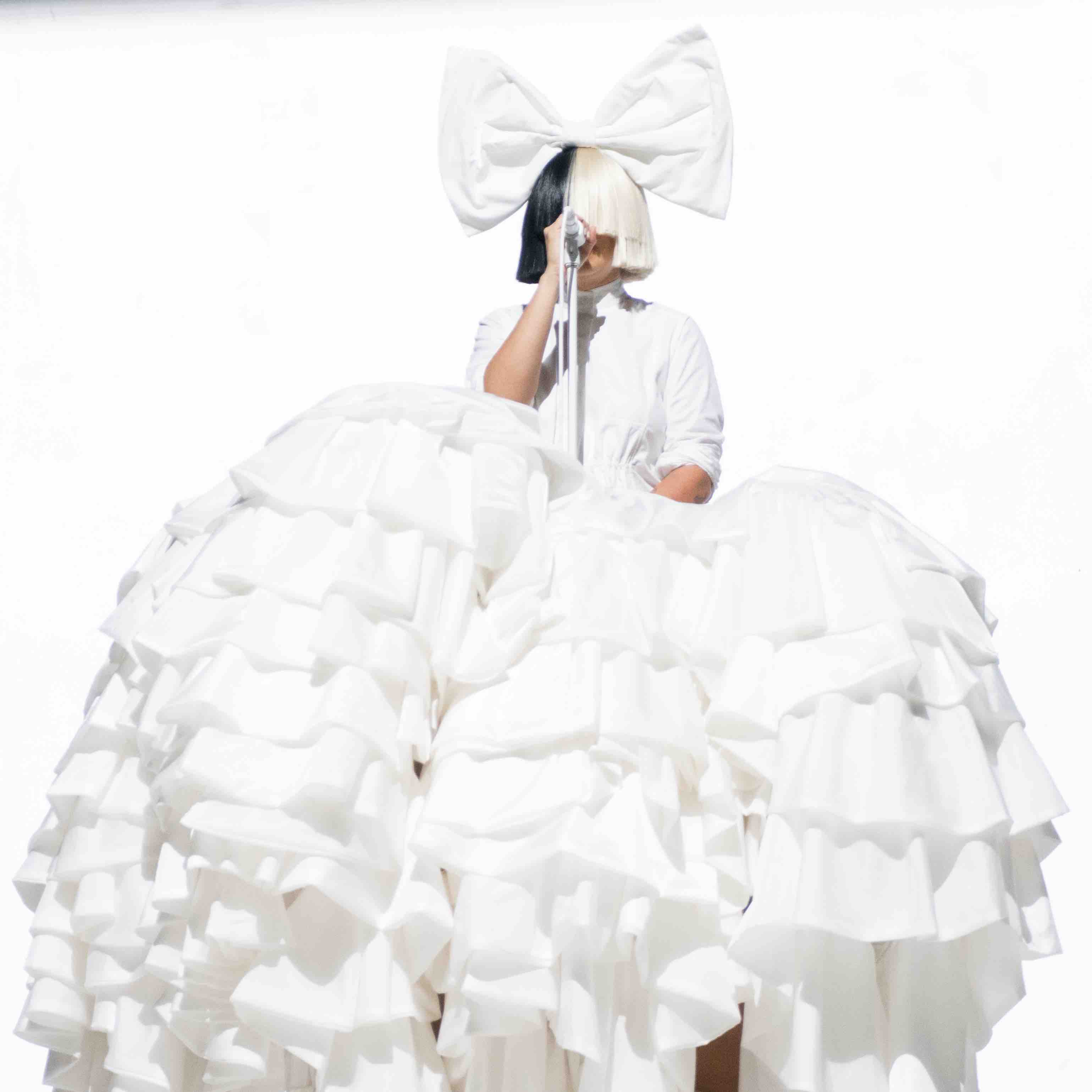 Børns
The highly-anticipated Børns, donned in hippie vibes and a tucked floral shirt, fell a little short of expectations. Garrett Borns, originally from Grand Haven, Mich., swayed in his stationary spot on stage, and though his music asked for a laxer rock atmosphere, even performances for upbeat tracks like "American Money" didn't exude the soul the song begs for. With an unchanging backdrop and minimalistic lights, the singer could have put on a more riveting performance to compensate for his low-budget technical props – like many artists in the middle of the star-power scale did.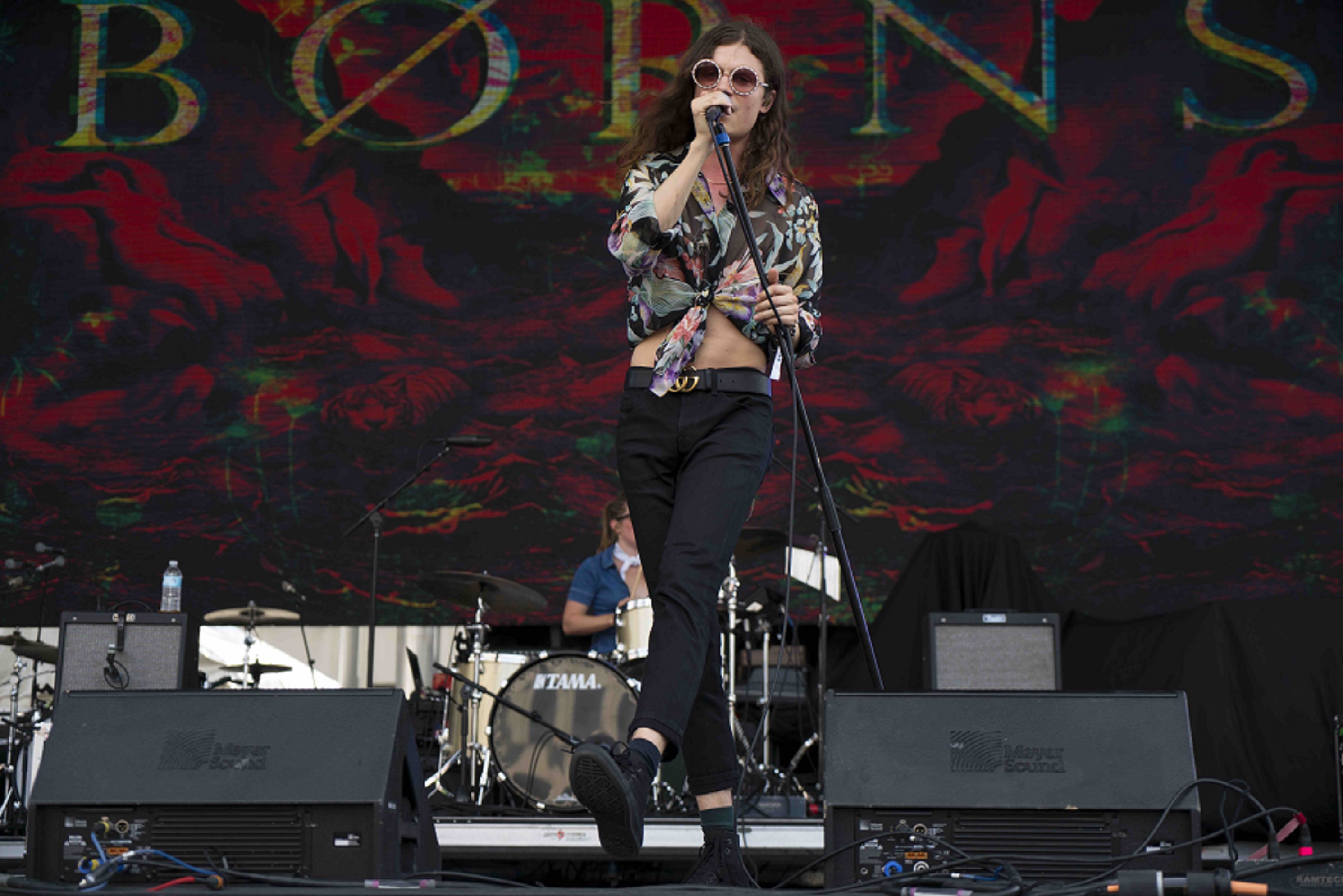 City and Colour
Amid the hazy New England heat, Saturday was mellow. The Vaccines were chill, Børns was soft, Canadian singer City and Colour was both of those things while oozing the soul the former two artists lacked. If sound could cry, if songs could be laced with tears, if music could hang longing in the air — that was exactly what City and Colour did. Starting with more popular tracks like "The Girl" and "Lover Come Back," the set list cooled down in coordination with the setting sun. City and Colour elongated many of his songs, and his acoustic melodies and chilling falsettos carried the crowd into the night.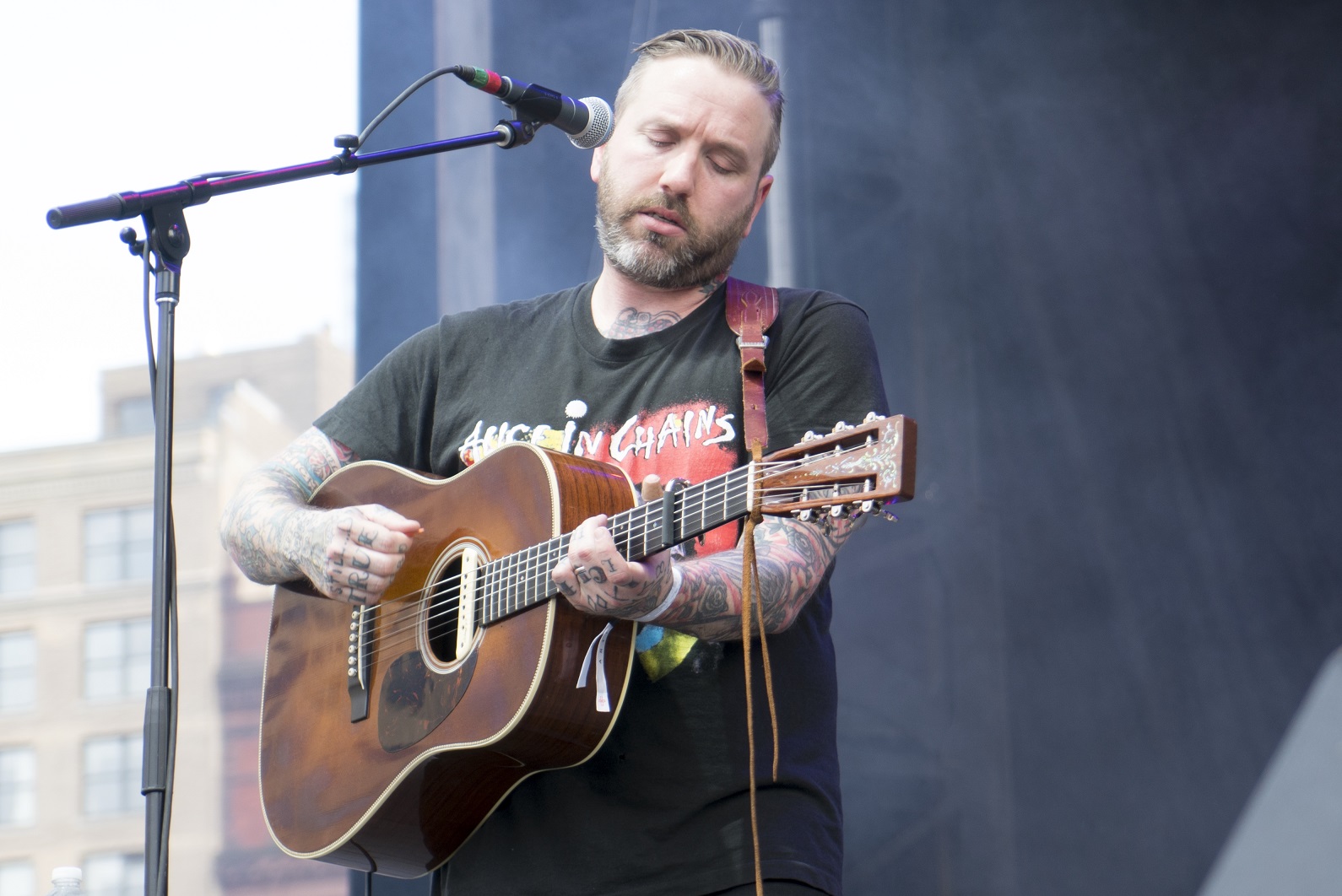 Courtney Barnett
Courtney Barnett is not everyone's cup of tea, and in fact, she may purposely be tea that's hard to swallow. The Australian singer-songwriter's music isn't exactly mainstream, yet she received a Grammy nomination last year for Best New Artist; she's surely a hardcore rocker, yet her stream-of-consciousness lyrical style strays her into the indie category. Barnett's concerts are always about the music — no shock elements, no extravagant wardrobe, no makeup — just her and her fiery, ferociously feminist hits. While she didn't travel much during her set, her stationary position didn't hold her hostage like it did for others. Barnett leapt up into the air; she slammed her body down on the stage; she rang her guitar so hard that the strings seemed at peril to snap. She didn't disappoint with the crowd favorite, "Pedestrian at Best," in which, ironically, she screams: "Put me on a pedestal and I'll only disappoint you." Her passion was undeniable, but with downcast eyes and hair covering her countenance, her performance offered more of an aloof rather than direct chemistry with the audience. At least it's safe to say Barnett had as much fun as her fans.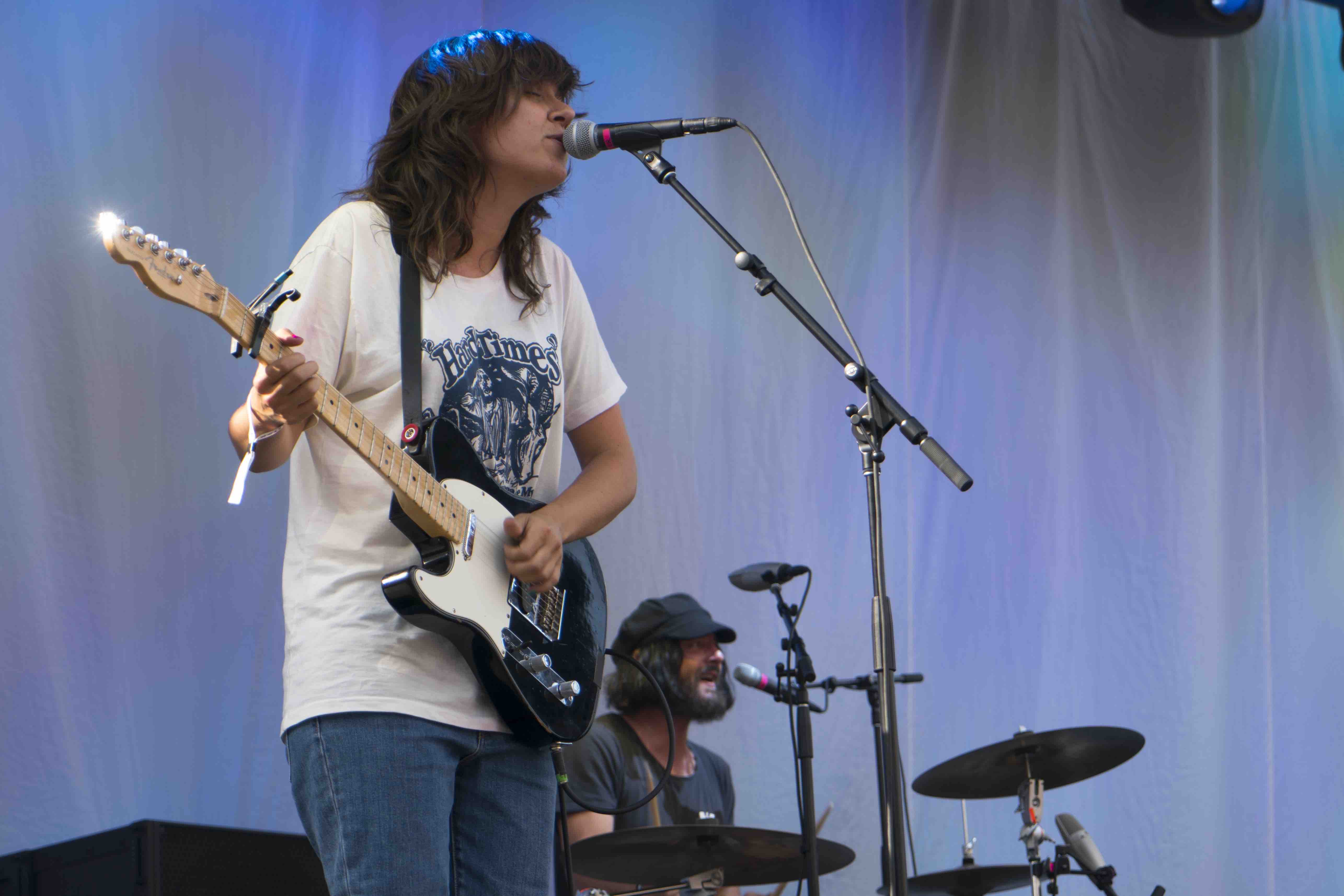 Miike Snow
As Boston Calling proved, stationary movement doesn't always equate to a static performance. ODESZA, Disclosure, Courtney Barnett and others remain mostly in one spot onstage, yet the their facial expressions and vocal passion move audiences for them. While Andrew Wyatt, the lead singer of Miike Snow, used the stage to his advantage, his traveling didn't make for as dynamic a performance because he seemed to approach his music more passively. Frequently returning to his cup of hot tea, Wyatt seemed to be more immersed in a rehearsal session than his screaming fans. This may be attributed to the fact that Wyatt and his band "don't think (they're) stars." In an exclusive interview with The Michigan Daily, Wyatt said of iii, their third and most recent album, "This record is more like American to me … It feels like it's drawing from Black American music traditions." Wyatt explained he grew up highly influenced by Black icons like Stevie Wonder and Earth, Wind and Fire, and now, he defines: "extremely nerdy European and extreme disadvantaged African Americans: between those two crews, that's where music moves forward, generally speaking." Miike Snow surely has the European aspect, as Wyatt, the only American in a trio of Swedes, writes all the songs with his bandmates. Wyatt explained that most of their work is held together by hooks, so they understand how to produce a catchy song, but Miike Snow could have worked harder to build their own hype at their Boston Calling performance. Though they only recently started using laptops during their sets, they manipulate all their sounds live. "Animal" beat on for nearly eight minutes that night — but not quite at the rave vibe they were going for. Their three big closers, "Burial," "Genghis Khan" and "Animal" felt a bit anticlimactic for a group like Miike Snow.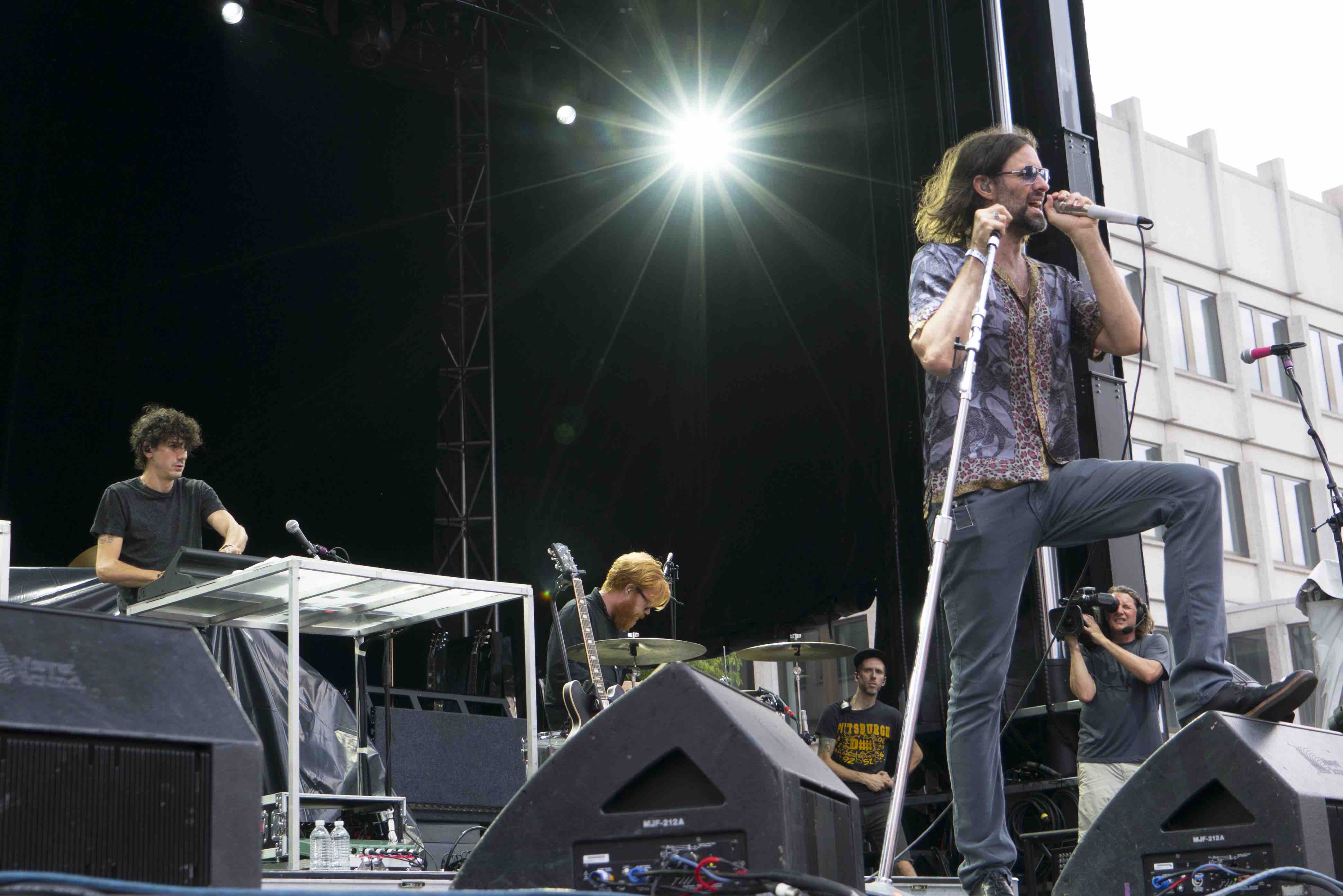 ODESZA
If the Saturday haze wore the crowd down, ODESZA reinvigorated heat-exhausted festival-goers to party on. ODESZA concerts always reverberate with such energy; it's hard for them to get old, even after seeing them one, two, four or more times. Though the back of the crowd was slow to warm up, by the end of their set, their electronic-meets-ethereal sound successfully launched the city into the summer, with tracks like "Summer's Gone" (ironically) and "How Did I Get Here." It's an unfair comparison to smaller, lower-budget indie bands, but stage lights and production design really enhance the quality of a concert experience. As phenomenal as Robyn's show was, the majority of the tired plaza filtered out following ODESZA. It looks like ODESZA was the real headliner Saturday night.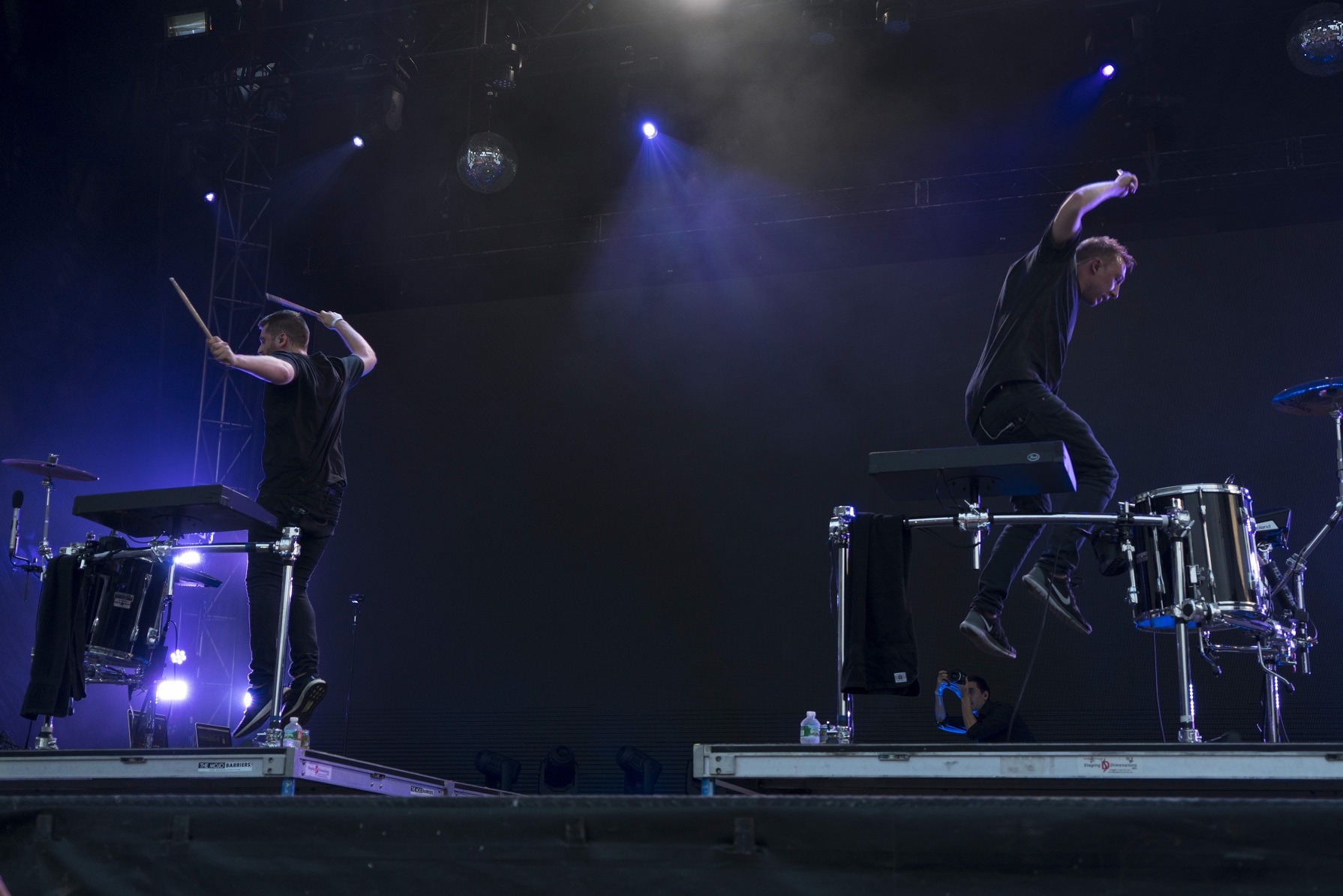 Robyn
Robyn was one big late-night dance party — pure thrill, pure fun. As one of the most dynamic performers the festival saw, Robyn's merits were unfortunately overshadowed by the tepid turnout following ODESZA's smashing set. Boston Calling was the first stop of her American festival tour, so she came fully equipped with her one-legged fringe pantsuit and her ponytail microphone stand. Interestingly, Robyn made the creative decision to remix some of her most popular songs by inviting some of her favorite artists onstage with her. Highlights included The Black Madonna during "Indestructible," and hits such as "Dancing On My Own" with French duo Cassius and "Stars 4 Ever" with Zhala & Heal the World. Silhouetted by red and blue lights, Robyn showcased her impressive stamina by bouncing with nonstop energy. It was as though her music sweat out through her pores instead of escaped from the microphone.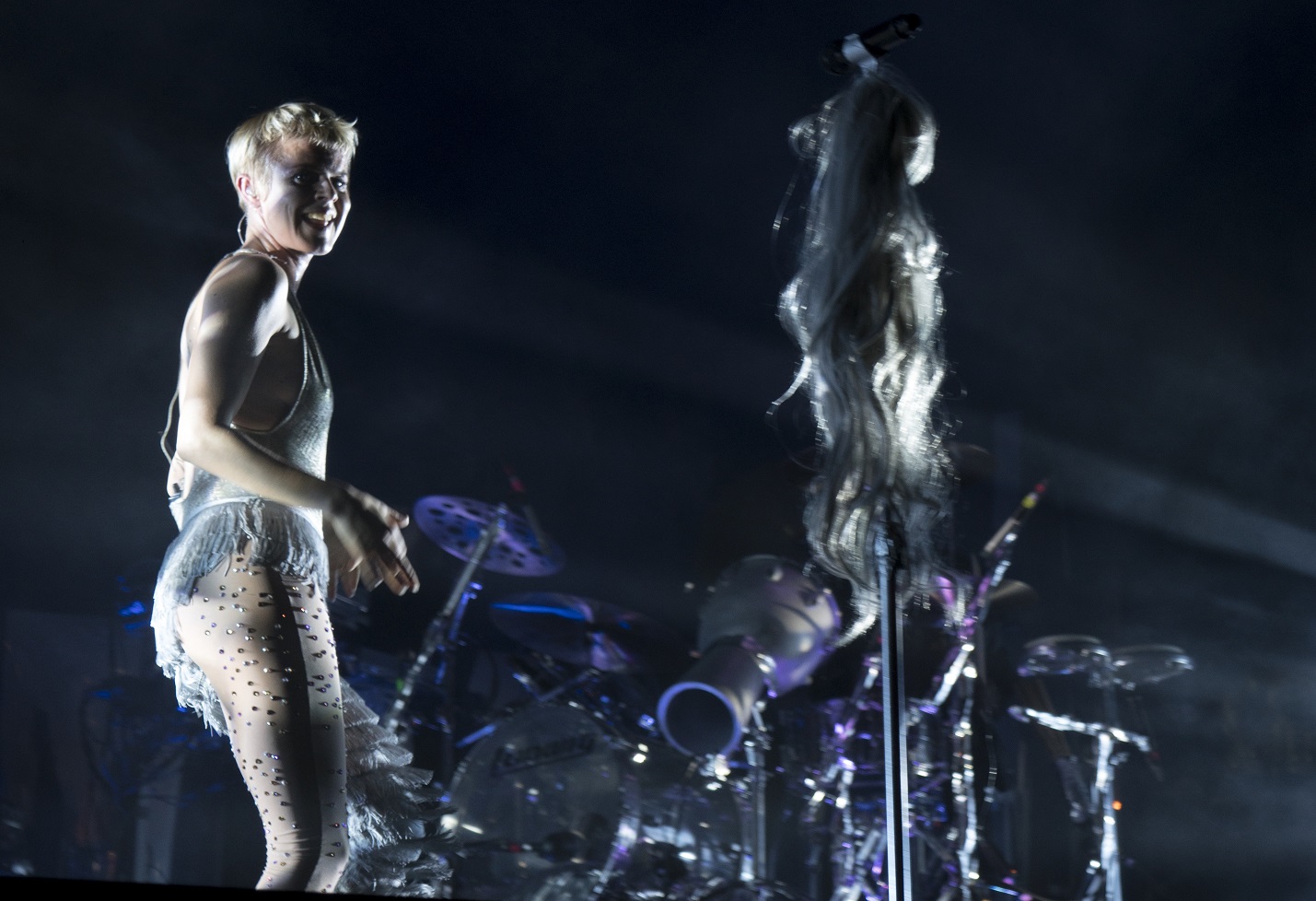 Unknown Mortal Orchestra
Frontman Ruban Nielson sauntered on stage — no need for an introduction — and just began playing. The band clearly felt comfortable, as if they were simply jamming among an audience of friends. Nielsen, a multi-instrumentalist, built up into a drumroll, introducing rougher rhythms that allowed him to shred his guitar and groove to undertones of synth. He immersed himself so deeply in the music that the lacking lights and backdrop seemed to fade away amid echoes from their Multi-Love album.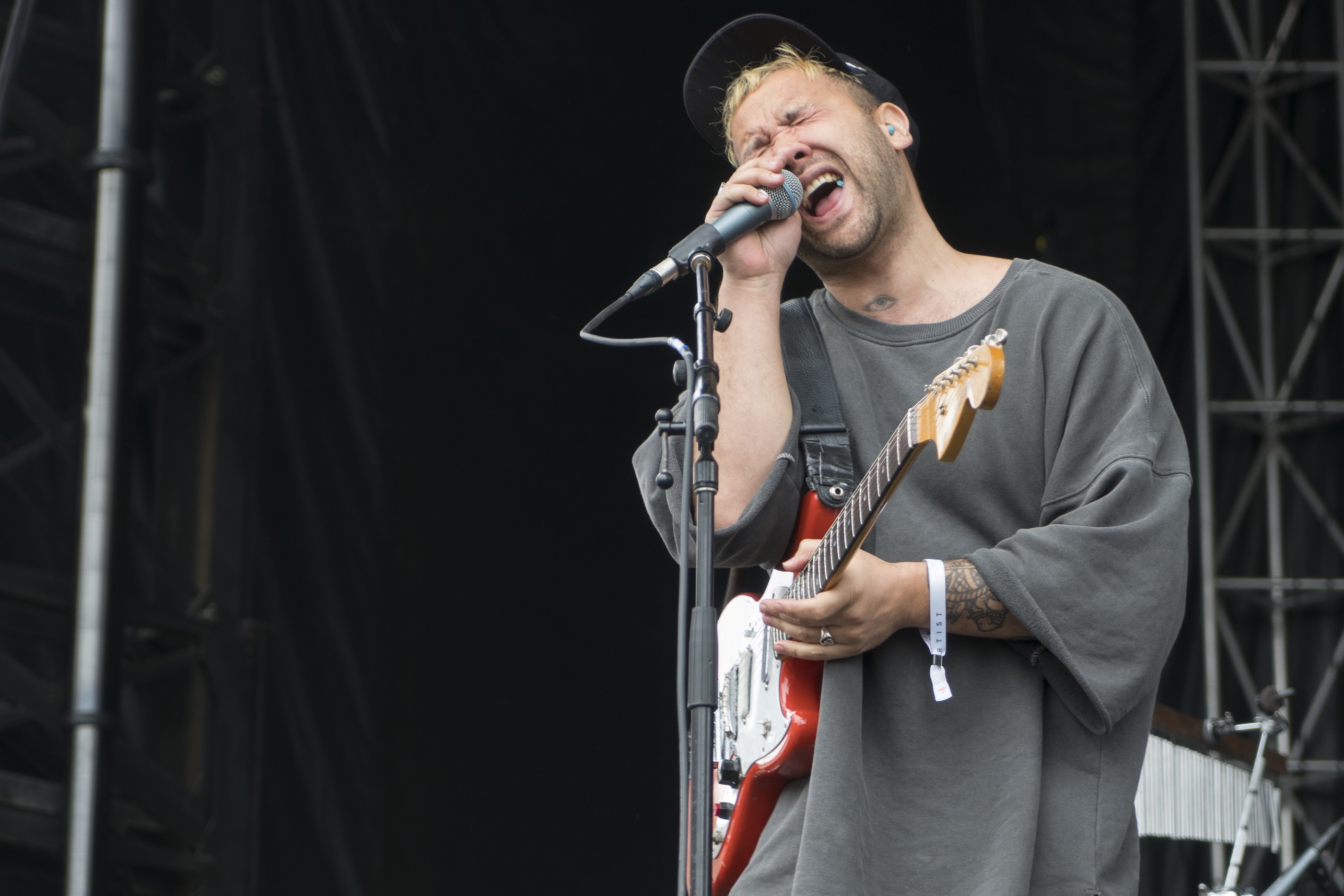 Vince Staples
"This is a Vince Staples show, so make some fucking noise." Accompanied by his sidekick/DJ, Staples turned the heat up on the chilly Sunday. He insisted the audience warm up faster, commanding: "jump, jump, jump — hands up, hands up, hands up" while bounding across the stage to build hype. Most notably, Staples brought a welcome air of humor that loosened the crowd up after heavier, more melodic tunes kicked the morning off. Emblazoned across his sweatshirt were the words "Straight Edge" and a cross-country symbol – two ironic representations of "white culture" that he joked lightheartedly about, especially since he rapped about his personal experiences with drugs, alcohol and dropping out of school. He later encouraged the audience to yell to a security-tight plaza, "FUCK THE BOSTON PO-LICE" — to which he followed with a "Sorry." If there is a major lesson any performer can learn from Staples, it's the art of audience interaction. At the end of his set, he jumped into the barrier, and the crowd went wild.
Elle King
Who would've known this lady was the spawn of crude comedian Rob Schneider? After hearing King's set, though, it may make sense, as she unabashedly bellowed provocative lyrics about "being slutty" and openly admitted to having one too many drinks before her show. Nevertheless, the crass and sass she graced to the stage was still outlined by a feminist fire that refused to apologize for being an independent "chain-smoking, hard-drinking woman." With a raspy voice and edgy country-meets-rocker aesthetic, the "hillbilly from Ohio" strummed her banjo named Claire and sang about her heartbreaking days. The crowd fell immediately in love with her candor and bowed down to their new Queen.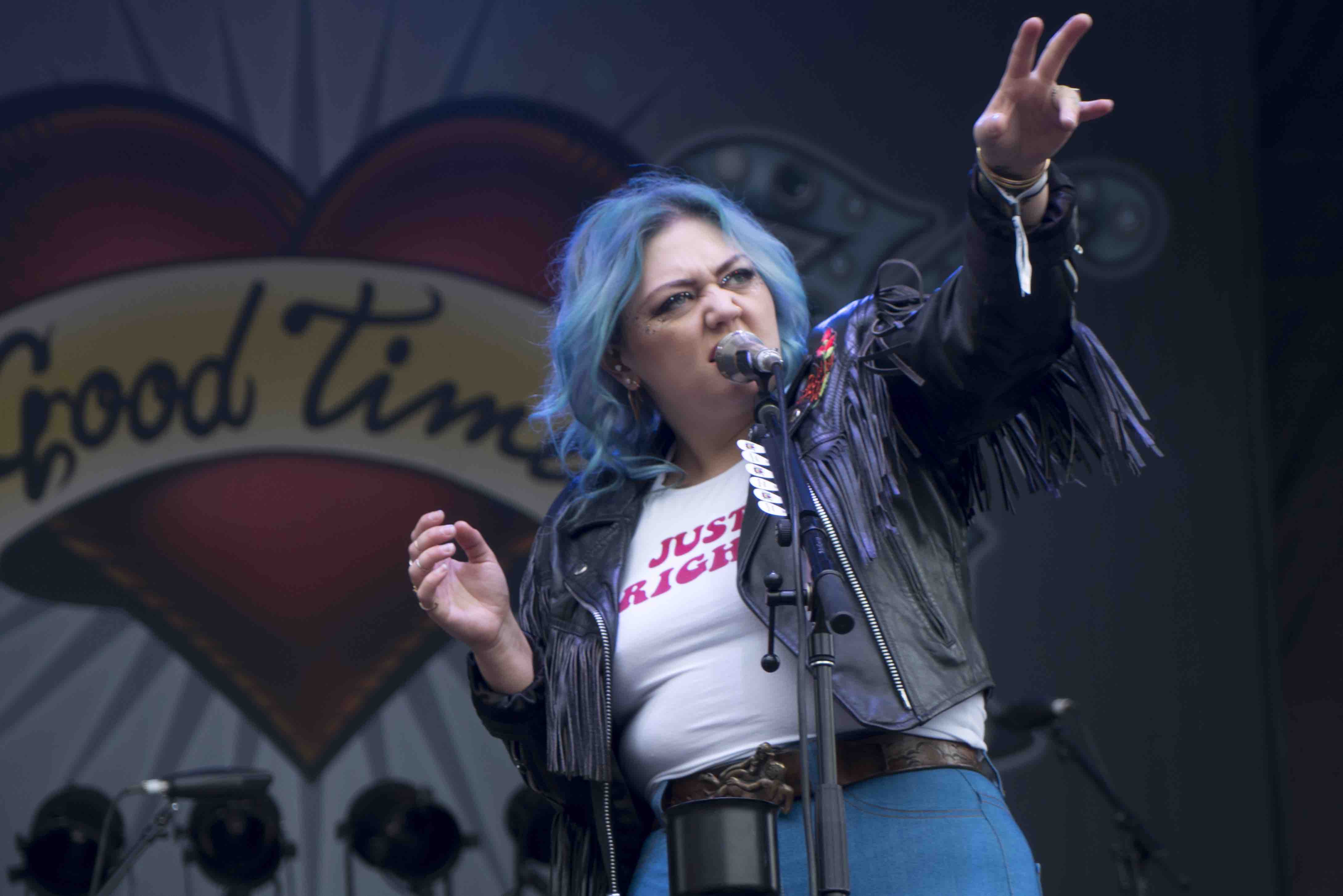 Janelle Monae
Wheeled out onstage in a mummy-like position then curtsying like royalty to close her set, Monáe's performance can be best described as majestic. Screaming into her microphone and never missing a beat, she and her two backup dancers got the audience chanting, "smash smash, bang bang, DON'T STOP." She reminisced the Jackson Five with songs like "I Want You Back," and her own aura emulated their youthful, soulful style. She brought back some oldies but goodies like "I Feel Good" while also making a tribute to the late Prince. Monáe's black-and-white themed set outlined the idea of "choosing truth and freedom over fear." She encouraged the audience to push for equality despite racial and sexual differences and push for fair pay regardless of gender. In her popular track "Yoga," she preached, "Yoga is about stretching yourself to your limits, making something out of something small — choosing freedom over fear," to a crowd that hollered in agreement. It's clear that Monáe embodies the definition of a true artist – not only one who sings, dances and acts, but also one who advocates for social change.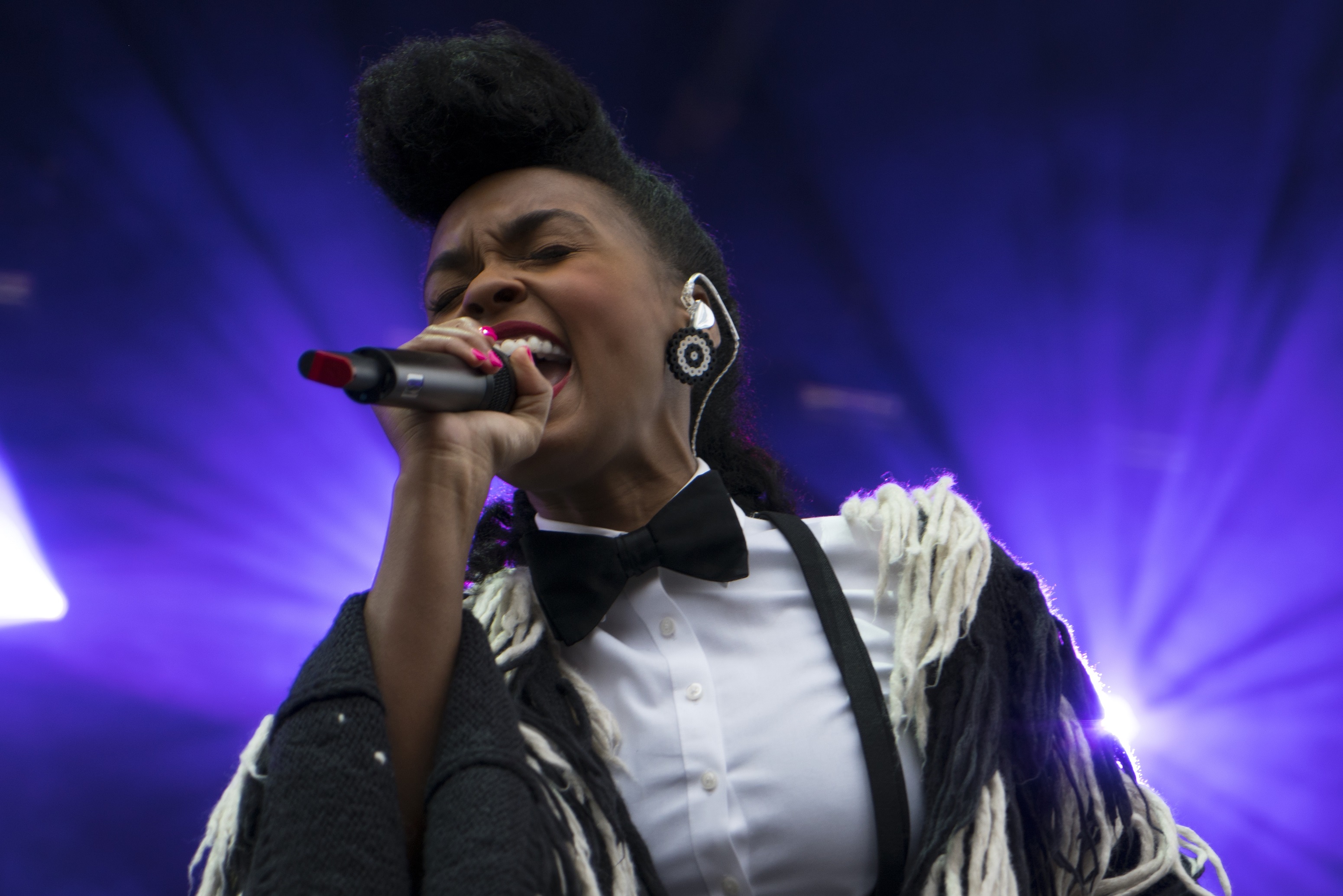 Charles Bradley and the Extraordinaires
"The Screaming Eagle of Soul" put on one sensation of a performance, infecting the audience with his enthusiasm. It's acts like Bradley's that add variety to Boston Calling's range of genres. At 67, Bradley is nothing short of legendary — working the microphone to his whim, dropping to the stage in a fit of passion and transmitting the meaning behind his songs to the crowd. He has this incredible ability to connect with each and every audience member and also bond the collective with his soulful sounds. Any up-and-coming performer would learn a great deal about stage presence by simply watching Bradley.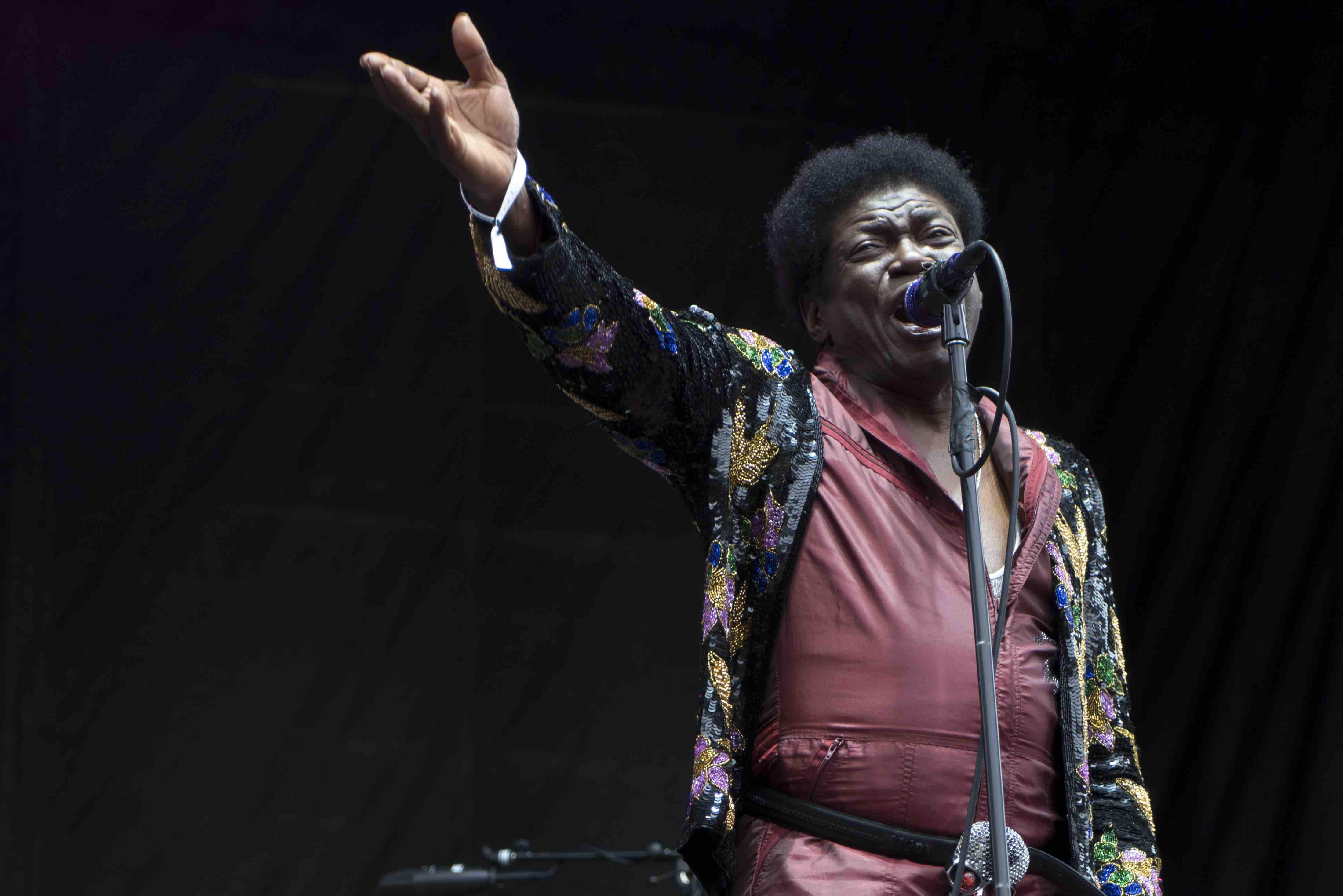 HAIM
Caressed by a golden backlight, the three sisters of HAIM pounded out moment after memorable moment with a set full of sing-along songs. With only a debut EP in their repertoire, the girls performed like pros, fully embodying what it means to "play your heart out." Their anthems, like "Forever" and "The Wire," have already conquered the pop charts and the crowd's hearts, but songs like "Falling" confirmed that the ladies deserve every bit of recognition for their musical talents. The band invited another group from the lineup, Christine and the Queens, out with them to cover Prince's "I Would Die 4 U." Needless to say, HAIM has a charisma and a stage presence made for festivals.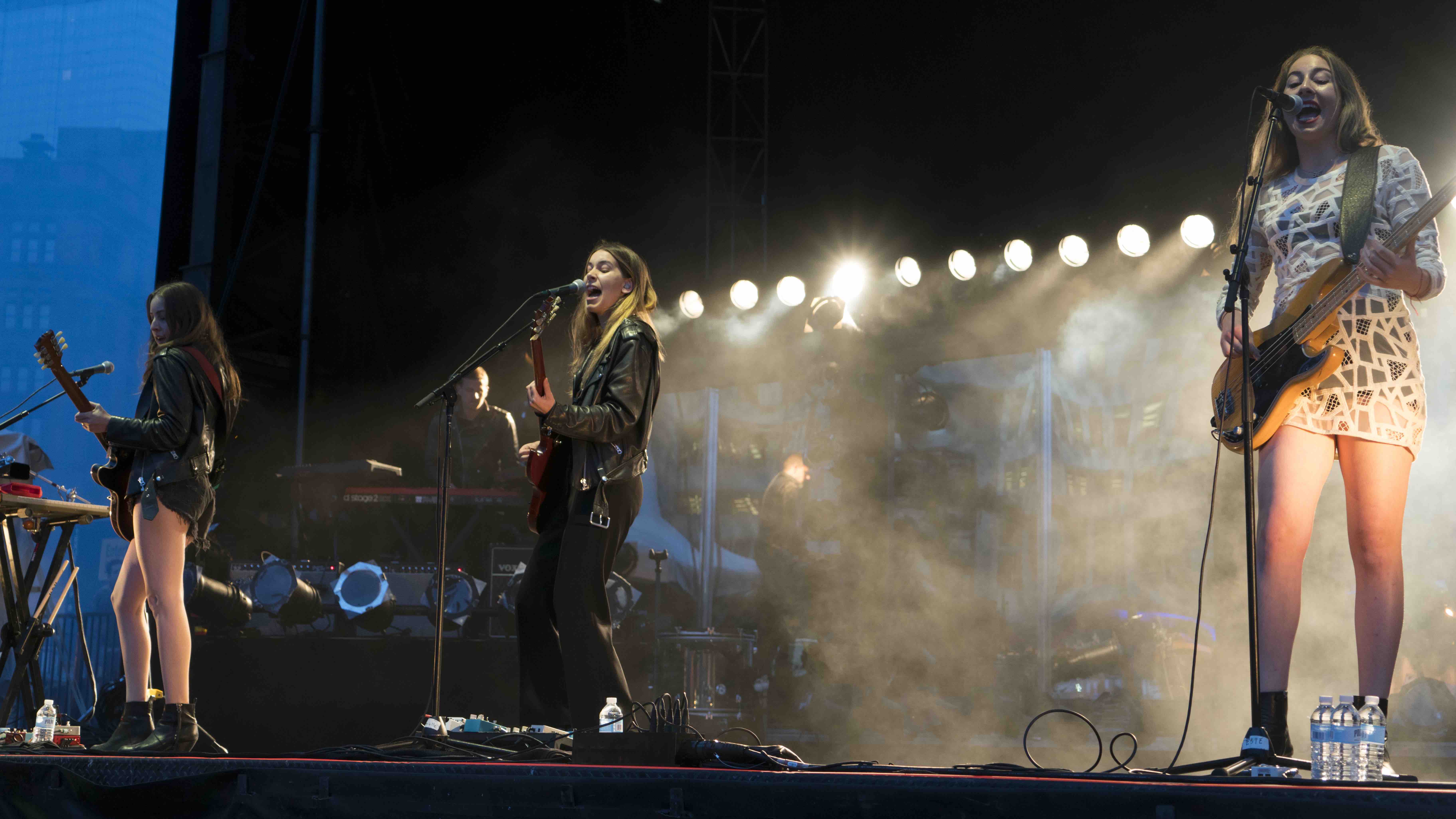 Disclosure
If ODESZA's set electrified the audience, Disclosure completely electrocuted the city, even beyond the festival gates. To start, the brightest of LED lights illuminated the stage, and JetBlue-sponsored wands glittered across the entire plaza. For Boston Calling's final performance of the weekend, Disclosure churned out a geometry of sound that defined what it felt to be alive. To witness the making of every kaleidoscopic note of fan-favorite tracks like "Settle" and "White Noise" was a surreal experience. Even hours after the concert, the rhythm of the night still beat on to "Latch."